Direct Digital Manufacturing (DDM) is a combination of direct printing and other direct
process which can include milling, drilling, polishing, heating, cooling, pick and place
and chip shooting.  This is setup on a single tool or a series of tools and the advantage
is the flexibility this brings in materials and process without the need to retool.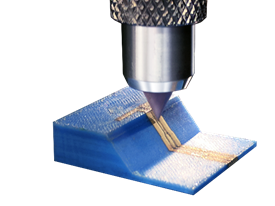 No retooling is a time saver, a cost saver and a product enabler. This is true 3D
fabricator with a CAD interface that can quickly change prints at the touch of a button.
We are the pioneers of DDM and we continue to advance this for a number of
industries.  The future of Printed Circuit Boards (PCB) will move from 2D to 3D and the 
structures will be electrically functional making, Printed Circuit Structures (PCS).
We are experts in:
– Motion control for 3 to 6 axis
– Precision micro-dispensing
– Precision 3D printing
– Laser processing and including in situ
– Vision and sensing for closed loop feedback
– Precision milling, drilling and polishing