At Sciperio we challenge the boundaries of traditional scientific disciplines, we look beyond our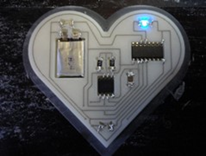 fields of expertise, and feel most comfortable working at the interfaces between mechanical,
electrical, chemical, optical, and biological sciences. This transdisciplinary engineering approach
enables Sciperio to go from the invention to innovation to realization of products in its R&D
endeavors.
Advanced technology has the ability to connect two people miles apart, to mobilize people and
enable them to do business in their offices, homes and cars, to protect our homes and our country,
to diagnose and treat sickness, to entertain and teach. Simply put, advanced technology provides
opportunities that were nonexistent a hundred, fifty, or even just five years ago, At Sciperio, we
appreciate our position at the forefront of high-tech innovation, while at the same time we recognize
God's hand in the development of technology. We respect life at all levels and seek to promote
technology for the betterment of humankind. 
Contact Us 
If you have a question about our technologies or how they can help you
contact us directly at [email protected] or by calling us as our Florida offices.
For media inquiries, please call our Orlando office at 407-275-4755